Establishing a Web Based Archive of Papers in Computational Electromagnetics
The presentation linked below extends the proposals and ideas put forward at the Compumag conference in Aachen (2007) and CEM conference in Brighton (2008). It is suggested that a Web based system could and should be developed to create a definite archive of publications in the area of Computational Electromagnetics. The need for such an archive has arisen as a result of a tendency of duplication in published work and to assist in the refereeing process.
ICS members are invited to comment and share their views on the project.

New arrangements for paying membership dues
New arrangements are now in force to pay when joining or renewing the membership of the Society. Payments by cheque sent to the Secretariat will still be possible, but payments by credit card (Visa and MasterCard) use a new online facility. This will provide much better security and less administration. Instead of filling in a form with instructions for payment and sending it to Southampton, you need to go to the following web page:
https://store.southampton.ac.uk/browse/product.asp?catid=13&modid=1&compid=1
and complete the 'transaction' on-line. In fact we are using the 'Online Store' of the University of Southampton for that purpose and the procedure is very similar to the familiar purchases on the web (e.g. Amazon). As soon as you have paid, an automatic e-mail will be sent to the ICS Secretariat and a full record of payments will be held. The new mechanism is more secure both in terms of better protection of card details and recording the transactions. Renewal notices will still be issued, but it is our intention to gradually replace them with e-mail notifications and reminders. Please note also that the facility to pay by credit card using the invoices issued last July is no longer available.
The web page looks as shown below: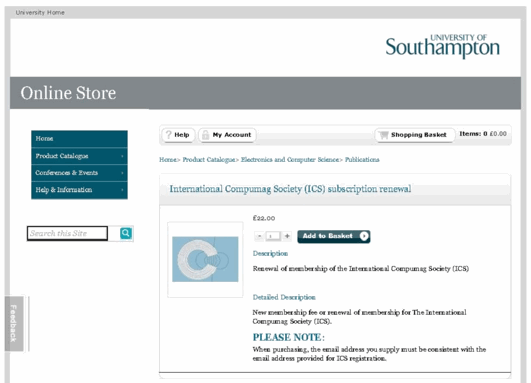 I hope you will find the new arrangements much better and easier to use.
Jan Sykulski
Secretary/Treasurer of ICS