Picture from Compumag 2017 Daejeon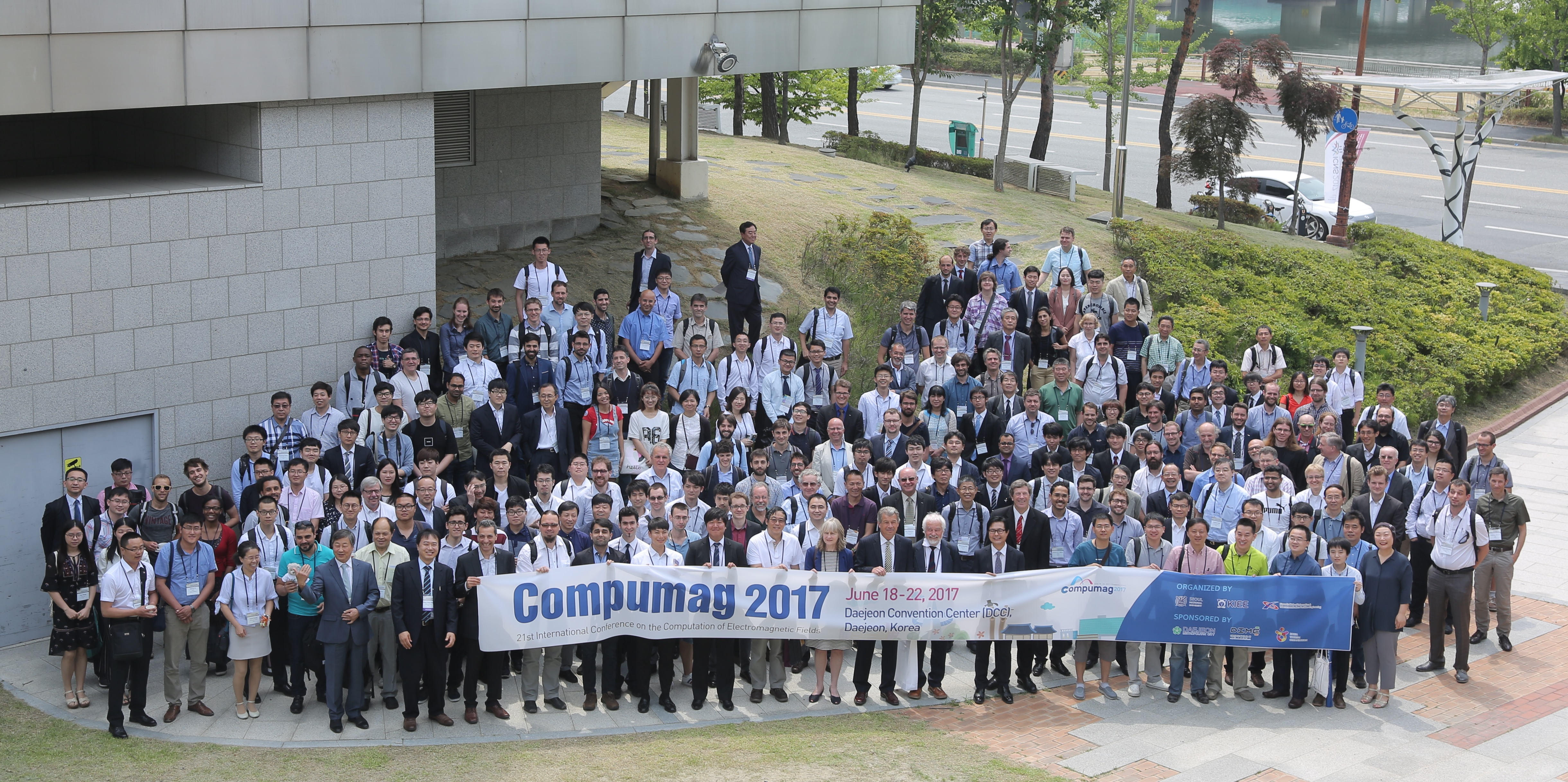 Click here for full size picture
Proceedings are available here
ICS Board Elections 2016
ICS Board Elections 2016
I am delighted to announce that the following members have been duly elected to serve on the Board of the International Compumag Society:
The Americas
Asia and Oceania
Europe and Africa

David Lowther

Nathan Ida

Sheppard Salon

Arturo Bretas

Kazuhiro Muramatsu

Jiansheng Yuan

Katsumi Yamazaki

Chang-Seop Koh

Maurizio Repetto

Oszkár Bíró

Stéphane Clénet

Zhuoxiang Ren

In view of the results of these elections and in accordance with Article VI of the Constitution and Article III of the Bye-Laws of the International Compumag Society, the new Board will therefore consist of the following members: Baodong Bai (China), Istvan Bardi (USA), Oszkar Biro (Austria), Arturo Bretas (USA), Stéphane Clenet (France), Patrick Dular (Belgium), Behzad Forghani (Canada), Herbert De Gersem (Germany), Koji Fujiwara (Japan), Kay Hameyer (Germany), Nathan Ida (USA), Hajime Igarashi (Japan), Hyun Kyo Jung (Korea), Chang Seop Koh (Korea), Luiz Lebensztajn (Brazil), David Lowther (Canada), Junwei Lu (Australia), Kazuhiro Muramatsu (Japan), Jozsef Pavo (Hungary), Zhuoxiang Ren (France), Maurizio Repetto (Italy), Sheppard Salon (USA), Elson Silva (Brazil), Jan Sykulski (UK, Secretary/Treasurer), Bill Trowbridge (UK, Honorary President), Katsumi Yamazaki (Japan) and Jiansheng Yuan (China).
According to Articles VI/3 and VI/5 of our Constitution the term for new Board members is six years and will begin on the first day of January in the year following the election (1st January 2017 in this case); however, the existing Officers will remain in their posts until the end of the first new Board meeting, when the election of the new Officers will take place. I would like to express my thanks all members who participated in the elections as candidates and voters and I wish the new Board every success in pursuing the aims and objectives of the International Compumag Society.